State of Texas recognizes Arguindegui's Vendor Performance
Arguindegui Oil recently received a Vendor Performance Report, Grade: A, from the Texas Comptroller of Public Accounts for their outstanding service to the Texas Department of Transportation.  The Comptroller's office is the state agency that oversees the Texas Smart Buy program which is the State of Texas' Cooperative Purchasing Program for local governments. The program ensures compliance with State of Texas competitive bidding requirements and puts the state's multi-billion dollar purchasing power to work for you. Using strict guidelines and best practices, vendors are scored on their performance and reliability. Arguindegui Oil is proud to announce that they received an A rating and was a commended vendor to TxDOT.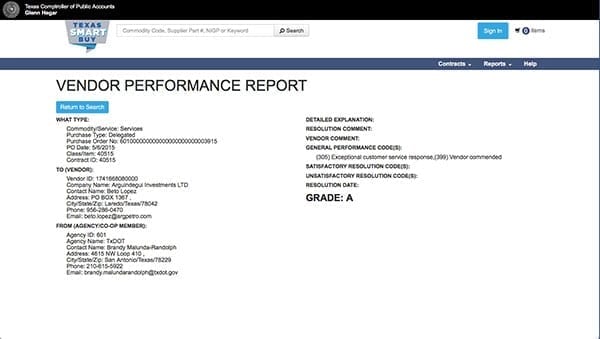 Arguindegui Oil Company has a rich 70-year history and a bright future as South Texas' premier distributor of Fuels, Lubricants, and Chemicals. From generation to generation of Arguindegui leadership, their vision and their mission has been to make their customers, employee partners, and shareholders successful. "We're proud of the efforts of our team. This recognition is a testament to their hard work and to their commitment to our customer's satisfaction" remarked Alfonso Arguindegui, Chairman and CEO.
Fueling Businesses Since 1942
Arguindegui Oil has long been recognized as a leader in the industry. Since 1942, Arguindegui has been delivering high-quality fuels to the drilling and trucking operations throughout South Texas. They have been providers of Valero, Conoco, and unbranded gasoline, diesel, and kerosene for nearly a century. Arguindegui supplies drilling companies, trucking companies, cities and counties, and school districts with large quantity truckload deliveries.
They have our roots in Laredo and South Texas. But they've been growing to serve a greater portion of Texas.  The customer's needs have helped them move into areas of the Gulf Coast, Rio Grande Valley, Permian Basin, and North Texas. Arguindegui Oil has locations in Laredo, Corpus Christi, Edinburg, Mission Rail, San Antonio, Beeville, Odessa, and Waxahachie, Texas. Their team of dedicated employees can serve your needs in the Eagle Ford or Barnett Shale as well all the above-listed cities.