Arguindegui Oil Company delivers fuels, lubricants, chemicals, and services throughout out Texas.  For over 80 years, we've have serviced Laredo, South Texas, and the region with the most respected brands. Arguindegui has built a reputation for excellence, on-time delivery, and performance.
Fueling your business since 1942.
Since 1942, Arguindegui has been delivering high-quality fuels to the drilling and trucking operations throughout South Texas. We have been providers of Valero, Conoco, and unbranded gasoline, diesel, and kerosene for nearly a century. Arguindegui supplies drilling companies, trucking companies, cities and counties, and school districts with large quantity truckload deliveries. In addition, we have the ability to quote fuel on a long-term contract basis, or on indexed pricing. AOC can also provide equipment to store, dispense, and monitor your fuel and its distribution. Subsequently, we can offer off-site fueling services as part of our on-site arrangements.
Arguindegui can also deliver fuels in smaller quantities to fuel small equipment or operations.  AOC services generators, pumps, yard based equipment like light plants, and diesel or gasoline powered forklifts.  We can provide 500 to 2,500-gallon storage tanks and dispensing equipment. Arguindegui Oil company also carries containment equipment for safe spill containment.
Arguindegui delivers lubricants and chemicals to many industries.
Lubricants and Chemicals are our specialties. Arguindegui Oil company carries a full line of traditional and synthetic lubricants and oils. We carry high-quality gasoline and diesel motor oils, hydraulic fluids, transmission oil, and cutting fluids. Our selection of natural gas engine oils and oil equipment lubricants is extensive.  Because we focus on the oil and gas industry, AOC carries rig oils such as chain oil, hydraulic fluid, and the best greases on the market.
If you have an industrial or commercial application, Arguindegui has source your lubricant and oil needs as well. We carry motor oils, transmission oils, greases, and high-temperature lubricants specifically geared for your manufacturer specifications. Consequently, Arguindegui Oil Company can deliver these products in a host of packages.  We can deliver in cases, drums, totes, and in bulk.  Also, AOC sells and loan equipment for dispensing and controlling your lubricants. Furthermore, our company has storage equipment for larger application storage.
Another of Arguindegui Oil Company's offerings are our chemicals.  We can carry fuel additives and antifreeze. We can carry tri-ethylene glycol for dehydrators in natural gas operations. AOC also has Power Services' Extreme Diesel Additive in stock for effective reduction of combustion fuel emissions and cleaner engines.
Click here to see our list of products.
Delivering the best products from the most respected brands.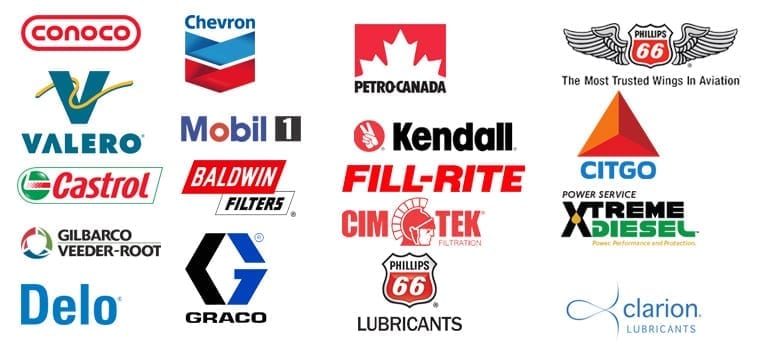 For years, we have been representing some of America's most respected fuel, lubricant, and chemical brands. These great companies have trusted Arguindegui Oil to represent them here in Texas for 75 plus years. We carry their signature line of oils and greases, lubricants, and chemicals.  We also carry fuel additives and filters for a wide variety of applications. Additionally, Arguindegui Oil Company carries these items in stock throughout its many locations.
We have expanded our service reach throughout Texas.
We have our roots in Laredo and South Texas. But we've been growing to serve a greater portion of Texas.  Our customer's needs have helped us move into areas of the Gulf Coast, Rio Grande Valley, Permian Basin, and North Texas. Arguindegui Oil has locations in Laredo, Corpus Christi, Edinburg, Mission Rail, San Antonio, Beeville, Odessa, and Waxahachie, Texas. Our team of dedicated employees can serve your needs in the Eagle Ford or Barnett Shale as well all the above-listed cities. Click here for our locations and their contact information.